SUMMARY
PC Tools Spyware Doctor with AntiVirus 6 incorporates the highly respected and rated award winning PC Tools Spyware Doctor, with anti-virus capabilities.
This software can provide protection from malware, viruses, spyware, adware, trojans, worms, phishing, keyloggers, popups and more.
There is also protection against certain 'bad' websites when on the internet, and from many with other threats.
Spyware Doctor with AntiVirus 6 comes with a free scan and is available for download with many of the main functions to use for free.

FEATURES
Overview: The features of Spyware Doctor with AntiVirus 6 include the security protection functions: Malware, Viruses, SpyWare, AdWare, Popups, Phishing, Hijackers, Identity theft, Keyloggers, Worms, Trojans, Rouge Spyware and a lot of other security threats.
This software also tries to limit visits to certain so called 'bad' websites. This is to provide extra protection when online using the internet. Such websites are labelled 'bad' for various reasons and the software is designed to identify when a user tries to access these sites.
There is also an add on (plug in) to include advanced heuristics via a behavioral based mode which is designed to attempt to detect problems, before they are fully understood. This mode also provides a good interim measure to try block threats during any lag time between a threat being identified, and updates being downloaded to the security software.
Spyware Doctor with AntiVirus 6 does have frequent updates itself to maximise your PCs protection.
Scans can be scheduled to run at various times, or you can perform scans on-demand when you feel you need them. The on demand scans can also be accessed from the Status ("Dashboard") screen (below) which also provides an array of additional summary details relating to your PCs security condition.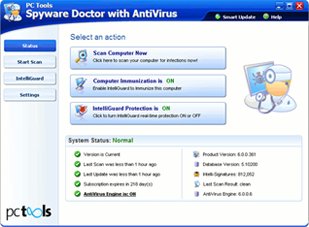 Spyware Doctor with AntiVirus 6 also has a "Dashboard" Status
screen to provide a snapshot of your PCs security.
The software is designed to operate in real-time with minimal interruption to users. This is to try minimize users having to a interact with the security software each time the software provides protection.
System Requirements - Operating System:
Designed for Windows® Vista™ 32-bit, 2000 and XP.



WHAT WE LIKED
Spyware Doctor: Spyware Doctor with AntiVirus 6 utilizes the highly decorated PC Tools Spyware Doctor (which has over 100 million downloads) and includes the anti-virus function for extra protection.
DashBoard: The "Dashboard" status screen provides a summary snapshot of current security status, last scan details, last update details and access to other functions.

ADDITIONAL COMMENTS
Integration: Spyware Doctor with AntiVirus 6 provides Anti-Virus and Anti-SpyWare and more, however it doesn't contain the extra features of a Firewall (with stealth) and SPAM filter like PC Tools Internet Security 2009.
Vigilance: You may refer to our Security Solution Summary as to the importance of understanding how software security should be complimented with your own caution and vigilance.
Free Features: The main security features within Spyware Doctor with AntiVirus 6 can be used for free, including specific updates.

RATING



4.0