SUMMARY
PC Tools Internet Security 2009 is packed with a lot of security features, all in one convenient product. It provides security from malware, viruses, spyware, adware and from 'bad' websites when on the internet, along with other threats.
It also includes a SPAM filter and a Firewall with stealth.
It is available for download and most of the core features are available to use for free, including free scan.
PC Tools Internet Security 2009 incorporates PC Tools Spyware Doctor which is highly rated award winning software and has been downloaded over 100 million times.

FEATURES
Overview: PC Tools Internet Security 2009 is rich in features. The security functions it covers are impressive and comprehensive.
It features include the following security functions: Malware, Viruses, SpyWare, AdWare, Rootkits, Identity theft, Hijackers, Hackers, Keyloggers, Worms, Phishing, Trojans, Popups, Rouge Spyware, Unwanted Software, Network attacks and a lot more.
This security software also features a behavioral based method to attempt to detect security problems even before they are fully known.
Although these methods aren't always perfect in security products, we believe this is a good way to fill the gap in time between a threat emerging and being analyzed, and security products being updated specifically for the threat.
PC Tools Internet Security 2009 can also attempt to limit access to 'bad' websites to provide even more protection when using the internet.
It even has it's own SPAM filter that can help protect your inbox, especially from those really unwanted emails.
Firewall. Another thing that distinguishes this software is that it has it's own firewall. This firewall also has a stealth mode which further hides your PC from the internet and attempts to limit incoming connections.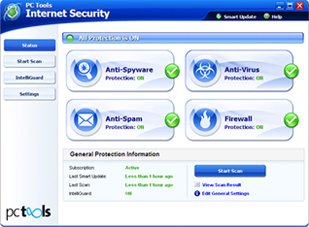 User Interface features a "Dashboard" Status screen to provide a
snapshot of the active security, last update, last scan and more.
PC Tools Internet Security 2009 features both scheduled scanning and on-demand scanning for your convenience.
It provides real-time protection as well as automatic updates to keep your protection as up to date as possible.
PC Tools Internet Security 2009 has a handy automatic configuration function that novice users may find convenient during installation. It also has advanced function settings for those more experienced users.
System Requirements - Operating System:
Designed for Windows® Vista™ 32-bit, XP and 2000.



WHAT WE LIKED
Integration: The many features within PC Tools Internet Security 2009 make it a great multi-function package. Using the same software product for Anti-Virus, Anti-SpyWare, Anti-SPAM and for a firewall is not just convenient, it also reduces potential compatibility problems of trying to get different products to 'play well with each other'.
DashBoard: The user interface features a handy status screen that is like a "Dashboard" and provides a summary snapshot of the current enabled security status, last update information, last scan information, quick access to settings and more.
Spyware Doctor: PC Tools Internet Security 2009 incorporates the highly decorated and respected PC Tools Spyware Doctor which has over 100 million copies downloaded.
Firewall: The firewall directly incorporated into PC Tools Internet Security 2009 not only includes the extra protection of stealth mode (as mentioned earlier), but is also highly configurable. The firewall is designed to be easy to use for the novice, whilst still having flexibility for the advanced.
AutoConfig: The automatic configuration during the installation can save time, especially for the novice user.

ADDITIONAL COMMENTS
Vigilance: You may refer to our Security Solution Summary as to the importance of understanding how software security should be complimented with your own caution and vigilance.
Free Features: Most of the main security features within PC Tools Internet Security 2009 can be used for free.

RATING



4.5