SUMMARY
ParetoLogic - XoftSpySE Anti-Spyware is a broad ranging deep malware scanner. It is designed to detect spyware, adware, browser hijacking, unwanted toolbars, keyloggers and more.
This spyware scanner will also scan for some viruses and for some system registry and program errors.
You may download it now for a free scan today.

FEATURES
Overview: ParetoLogic - XoftSpySE Anti-Spyware is a versatile scanner that is designed to detect a vast array of malware.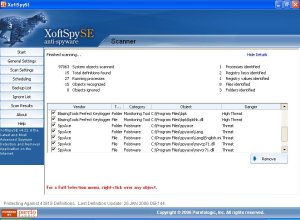 XoftSpySE Scan Screen (after scanning) with results.
It is designed to detect malware, spyware, adware, toolbars, hijackers, worms, trojans, popups and more that can lead to many problems like ID theft, password trapping and more.
It also scans for some viruses. According to ParetoLogic it scans for "many of the most prevalent and annoying viruses". This is great, but it's primary scan function still seems to be spyware orientated.
XoftSpySE also is designed to scan for some registry and program errors that can also slow down your PC. This is a handy addition that makes XoftSpySE a great broad-based scanner.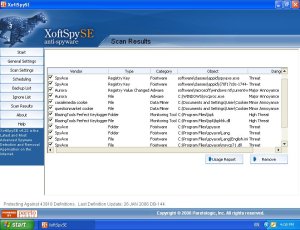 XoftSpySE Scan Screen with results and usage reports.
XoftSpySE also includes a backup function and scheduler in addition to the on demand scanner.
XoftSpySE doesn't operate in real time, unlike ParetoLogic - Anti-Spyware. This however may suit some users in that scans may be performed with little interruption to current security products.
ParetoLogic - XoftSpySE Anti-Spyware database is updated at regular intervals and it is important that this be kept up to date (as with any security product).
System Requirements:
The software is designed to operate on the PC. For further information on requirements refer to the more info button and navigate to ParetoLogic from the bottom of the screen.



WHAT WE LIKED
Broad Based Scan: XoftSpySE is primarily a spyware scanner, but that it scans for some viruses and system errors is very handy.

ADDITIONAL COMMENTS
Vigilance: You may refer to our Security Solution Summary as to the importance of understanding how software security should be complimented with your own caution and vigilance.
Free Features: The free scan is available today.

RATING



4.0