SUMMARY
ParetoLogic - Anti-Spyware is a dedicated malware scanner, that also runs in real-time. The malware it detects includes primarily spyware, also adware, trojans, keyloggers and more.
There is a free quick scan available as well as a full scan in ParetoLogic's Anti-Spyware. It is available for download now.

FEATURES
Overview: The ParetoLogic - Anti-Spyware software not just scans, it also operates in real time to increase your protection. It's security features includes: Malware, SpyWare, AdWare, PopUps, Keyloggers, ID theft, Trojans and a lot more.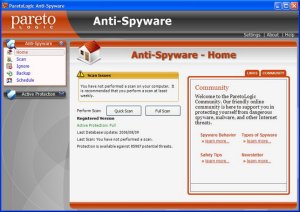 The Anti-Spyware 'Home' Screen allows for Quick and Full Scan.
It also provides access to further security information.
Quick Scans and the deeper Full Scans can be performed on-demand from the 'Home' Screen. Scheduled scanning may also be performed so that you can set a scan to run at a regular intervals, and/or when your PC is not so busy.
The 'Home' screen also provide access to further information on security related matters. The information in this can be quite insightful and helpful in your security endeavours.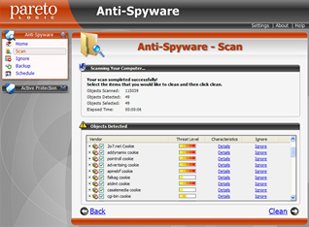 The Scan Results Screen provides a lot of detail and options.
ParetoLogic - Anti-Spyware database is updated so as to try keep up with related security threats as they emerge. It also features a backup function to help with your malware actions.
The software doesn't have an inbuilt SPAM filter, but ParetoLogic has the Spam Controls products for SPAM, which also includes a free SPAM scan.
System Requirements:
The software is designed to operate on the PC. For further information on requirements refer to the more info button and navigate to ParetoLogic from the bottom of the screen.



WHAT WE LIKED
Scan Results: The ParetoLogic - Anti-Spyware scan results screen contains a lot of information and options on the scan results detected. This can be quite handy in deciding your course of action.

ADDITIONAL COMMENTS
Integration: Anti-Spyware by ParetoLogic provides spyware/malware style scanning and protection, but additional features such as viruses can be found in ParetoLogic - Anti-Virus PLUS Review. SPAM scanning and filtering can be found in the separate Spam Controls software.
Large Database: ParetoLogic claims their Anti-Spyware product has "one of the largest detection and removal databases in the industry".
Vigilance: You may refer to our Security Solution Summary as to the importance of understanding how software security should be complimented with your own caution and vigilance.
Free Features: The free scan provides both a quick and a deep scan and is available today.

RATING



4.0