SUMMARY
ParetoLogic - Anti-Virus PLUS is designed to provide protection from malware, viruses, spyware, adware, rootkits, keyloggers, worms, trojans and more. It is also designed to protect from certain malicious, or 'bad', websites on the internet.
Anti-Virus PLUS has a free scan and is available for download right now.

FEATURES
Overview: ParetoLogic - Anti-Virus PLUS features include security protection from: Malware, Viruses, SpyWare, AdWare, Worms, Keyloggers, Trojans, Rootkits and a lot more threats.
This software operates in real-time protection and also features a "gamer mode" to try keep the security presence to a minimum so as to keep the impact on your gaming low.
There is also protection from certain malicious websites based on their addresses. The software tries to block access to these 'bad' sites when on the internet, for example to prevent them from installing malware.
Scans may be scheduled to run at a specific time, or performed on demand. Users may perform a full scan, quick scan or a customized scan to suit requirements, in both scheduled and on demand scans.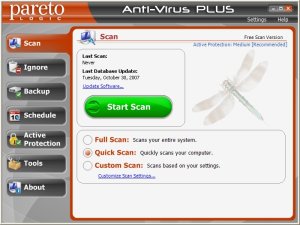 Anti-Virus PLUS Scan Screen with scanning options,
Full Scan, Quick Scan and Custom Scan.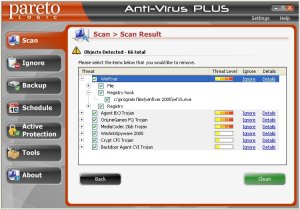 Example Scan Results Screen with items detected.
The scan results screen provides a lot of information on the objects detected during the scan. You can see the location of the detection, the severity and further details. The user can then be prompted as to what action they wish to take.
Anti-Virus PLUS is also updated to try keep pace with the latest threats as they might emerge.
Whilst the software lacks a SPAM filter on it's own, ParetoLogic also has the Spam Controls software for dealing with SPAM.
System Requirements - Operating System:


Microsoft Windows Vista


Microsoft Windows XP Service Pack 2


Microsoft Windows 2000 Service Pack 4
Note: All operating systems refer to 32-bit versions.



WHAT WE LIKED
Scan Results: The detail and options on the scan results screen allows the user to select which action they prefer to take with the object detected. There is also a lot of information on the nature of the detection.
Protection Level: The protection level screen makes it easy for the user to select the level of protection, which may be handy for novice users.
Gaming Mode: The Anti-Virus PLUS gaming mode still offers a great degree of protection, whilst trying to have minimal effect on system resources that high power gaming requires.

ADDITIONAL COMMENTS
Integration: Anti-Virus PLUS provides virus, malware type protection, however features like the SPAM filter may be handled in the separate Spam Controls package.
Vigilance: You may refer to our Security Solution Summary as to the importance of understanding how software security should be complimented with your own caution and vigilance.
Free Features: The free scan is a deep scan and is available now.

RATING



4.0