SUMMARY
Ad-Aware Pro is a comprehensive anti-malware product that detects an extensive range of threats. It is capable of detecting spyware, adware and even some viruses.
It is available with a free scan (free trial) and you may download today.

FEATURES
Overview: LavaSoft Ad-Aware Pro has a broad array of security features. Although the name implies it only covers adware, it actually includes anti-spyware, anti-adware and some anti-virus.
This includes trojans, worms, keyloggers, popups, rootkits, ID theft, hijackers, dialers and more. It also tries to protect your PC from 'bad' websites when on the internet.
It can detect an impressive amount of malware, over 2 million according to LavaSoft. Add to that the heuristics (behaviour based) detection, Ad-Aware tries to maximise your protection in this area.
It also features an updater to keep your malware list as current as possible.
It operates in real-time and includes a scheduled scanner, as well as the on demand scanner.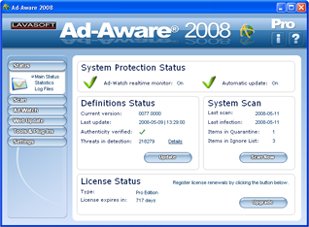 Ad-Aware Pro features a System Protection Status "Dashboard"
screen with access to the on-demand scan.
The scans can also be customised through scan profiles.
Pro V Plus: Ad-Aware Pro and Ad-Aware Plus are very similar products, The main extra features of Ad-Aware Pro are:
Ad-Watch Live Expert.
Network Drive Scanning.
Command Line Support.
Lavasoft Toolbox which include Process Watch, ThreatWork, Hosts File Editor and AutoStart Manager.
System Requirements:
This software is designed to operate on PCs. For more information on requirements refer to the more information button.



WHAT WE LIKED
Integration: Ad-Aware Pro includes anti-spyware, anti-adware and some anti-virus, amongst other features, plus an extensive range of malware detections. It however doesn't have a firewall.
DashBoard: The System Protection Status screen provides useful summary information and access to other functions within Ad-Aware Pro.

ADDITIONAL COMMENTS
Vigilance: You may refer to our Security Solution Summary as to the importance of understanding how software security should be complimented with your own caution and vigilance.
Free Features: Ad-Aware Pro has a free trial which includes a free scan.

RATING



4.0